New York USA Holidays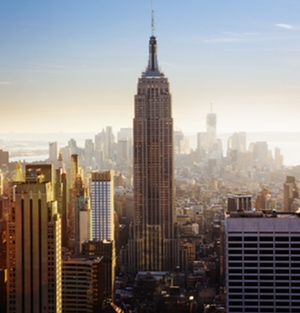 New York holidays are an education in diversity. There's the posh glamour of the Upper East Side and the bohemian chic of the West Village; Chinatown, Little Italy and Spanish Harlem; Uptown, Midtown and Downtown; SoHo, NoHo, TriBeCa, NoLIta and DUMBO; and so much more. Everywhere you turn there are different sights, sounds and smells that are unique to each neighbourhood.
Eats & drinks on your New York City Break
One of the best parts of a holiday to New York is exploring the city's many culinary offerings. If you love food, you'll love New York. There are thousands of restaurants, street vendors, cafes, bakeries, diners and dive joints representing every type of cooking and ethnic cuisine you can think of. Need a little direction? 21 Club is a New York institution, as is Diner, a converted dining car with a strong local following. Chat 'n' Chew, located just off Union Square, is a down-home eatery featuring delicious macaroni and cheese and the gigantic Holy Cow burger. Try Magnolia Bakery on Bleecker Street for some of the best cupcakes you'll ever taste, or head out to one of the city's ethnic neighbourhoods for authentic Italian, Chinese, Indian, Caribbean, French and more. In addition, don't forget to sample some of New York's traditional favourites like bagels, hot dogs and pizza - leave room for cheesecake, too!
Fun & Games
If you've ever wondered what "spoilt for choice" really means, spend a few days in New York and you'll understand. When it comes to things to do, the city is jam packed with something for everyone. From museums and galleries to theatre and live music, great restaurants and clubs to world-class street food, stately historic landmarks to stunning modern architecture...there's no doubt that a New York city break will keep you busy!
Check out the most famous sites, like the Empire State Building, Ground Zero and the 9/11 Memorial, the Statue of Liberty and Times Square, just to name a few. Obviously, you'll want to leave plenty of time for some serious shopping at one (or more!) of New York's famed retail landmarks: Fifth Avenue, Madison Avenue, Canal Street, Bleecker Street, Herald Square, the Historic Orchard Street Shopping District, Union Square and the Diamond District. Catch a Broadway show or spend an afternoon browsing the collections at the Metropolitan Museum of Art. Make plans if you must, but be prepared to let the City take you where it will.
Getting Around
The fastest and most convenient way to get around whilst on holiday in New York is by subway. You'll find a station around - under? - every corner, and the city's grid layout makes navigating the subway system quite straightforward. You can also take a taxi for short trips if you know exactly where you want to go, but to get a real feel for the city, nothing beats walking!
---
Couldn't include zoneoffers.
Browse Offers:
VIEW LATEST HOLIDAY OFFERS
Search Offers:
Irish service, Irish managed, Irish company
Value for money
Secure Bonded in Ireland
Knowledge based Irish staff
Get offers by email
Receive exclusive holiday and transfer offers.